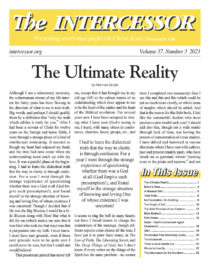 A Misused Self

God is who He is because He is fixed, and fixed as love; plainly every person who is to find himself and be a person equally becomes fixed. We often hear it said that the origin of evil is an unfathomable mystery, but, unless I am mistaken, I have not found it so. It seems plain enough. First, we understand evil to be the term we use as the opposite of good. But, good is the term we use of God who is love, for all that love does is good. Thus Jesus, when called Good Master by the rich young ruler, said, "Why callest thou Me good? There is none good but God!" So then, if good is the term used of the Living God who is the other-love, evil must be the term used of anyone who, as a person, is the opposite of God, and evil because he is self-love. Evil, therefore, is a person who, as a free person, has made the opposite choice to God and is fixed in it–a misused self rather than a right-used self.
This is why in Isaiah, God says, "I am the Lord…I create evil." The moment God creates persons like Himself, and, in no other way can He have sons to develop His universe, they can only be developing persons by their freedom of choice; and fundamental choice is, shall I be an expression of God in His self-giving love, or shall I, in my freedom, separate myself as a person (though, of course, eternally having my being in God) and function as a self-loving self? To be such, the opposite to the Self-giving One, would be what we call evil. Evil, therefore, is a necessary alternative in freedom. To be free involves the possibility of being evil. That is why it says that God creates evil. If He creates persons, He must create them free or they are not persons. If they are free, they can choose to become the opposite to Him in His fixed choice, and that is evil. Therefore, in giving freedom, God gives evil as a possible alternative.
And that, I think, is the eternal wonder of God's love in redemption, and the final revelation of the ultimate of love. In creating free persons, He created the possibility of the evil choice, yet He is not responsible if that choice was made. He could, therefore, have said, "Well, they made the choice for which I am not responsible. Leave them to it, and let Us make another race of persons," which is what He told Moses at the incident of the golden calf to stir in Moses the love-response he must have to handle Israel at this crisis. Exodus 32:9-14, and 32:32. But love belongs to need. Love is the debtor and need always love's creditor, for need, as Paul said, has an inescapable claim on love, which exists to meet it. So God as love has to go that second mile. Responsible for freedom, but not responsible for that wrong choice made in freedom, He says, "I will take the whole upon Myself, both the freedom for which I am responsible, and its wrong use, for which I am not responsible; and I will take that ultimate curse of that wrong choice upon Myself, and remove it in the blood of My Son"–the Lamb ordained to death before the foundation of the world.
So we know where evil began. It was the first free person, not of this human race, but of the angelic order, who could only be established in his unique appointment as "the anointed cherub that covereth" (Ezekiel 28:14) by becoming fixed by choice as Lucifer, which means bearer of God's light. But, instead, he spoke his free word of faith which fixed him in self-interest, self-seeking, self-exaltation (Isaiah 14:13-14). Evil, therefore, had its public origin in a person who became fixed in self-centeredness, the opposite to God. This was "sin" which John explained as "transgression of the law," law being the way a thing works; and the way the universe works is by Him who is love. So sin is a person who is self-loving love, just as righteousness is the Person who is self-giving love. Both are persons, for the universe is the Person, and we, as persons, His sons in the Son, Head and Body. It is in our separation from Him that we have come to speak of aspects of Him as things, as abstractions, such as goodness, love, power, peace, joy, etc., or alternatively of evil, sin, hate, envy, etc., whereas they are the Person who is these things. God is the Person. Evil is a created person who chose to be the opposite to God, and is called the god of this world because he brought into manifestation the opposite form of personhood. Sin is the root and sins are the product.
But what we are to note as we continue to trace humanity's history is that this evil one, called Lucifer, and Satan, is still and forever a rebel son, recorded in Job as among the sons of God presenting themselves to Him. He is still God's servant, though in rebellion, and still does God's will, and has his being in God, as all the universe had. This is important because owing to the illusory sense of separation from God which the Fall has given us, we find it difficult to recognize that Satan is not some separated person who goes about and does as he wills, and we have to, in a way, call on God to go and find and handle him. No, he is God's negative agent and we shall see how wonderfully he is God's convenient agent, and we learn to see through Satan to the One in full control of him, if we are to get all the distortions of life into focus.
More Articles from The Intercessor, Vol 37 No 3