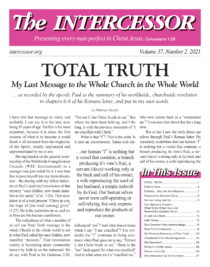 Two Common Misunderstandings

As with Paul, so now our proclamation of the Gospel "once delivered to the saints" is open to misinterpretation.
Paul acknowledged one such problem: "As we be slanderously reported, and some affirm that we say, 'Let us do evil that good may come.'" We also have questions such as: "If we are expressers of Christ, like branch to vine, who then sins?" and, "Do we still sin?"
The "Who" and the "When" of Sin
The answer is the simple fact that our relationship is a union (1 Cor. 6:17).1 The human spirit, which is our human "I am," with soul and body as clothing (Heb. 4:12),2 is created free, as is God Himself. While in this Satan-filled world (1 John 5:19),3 we are wide open to continuous solicitation to forget our Christ-union (2 Pet. 1:9).4 In a forgetfulness of that union, we can be drawn back by temptation (James 1:14)5 through our soul-body faculties (flesh), into the lie of independent self.
We may imagine that our human "I" could resist the temptation. That at once puts us back into the bluff of Satan's power in the form of a deceived independent self, which is really his self-for-self. Then we may vainly struggle, as the law (to which we have become dead in Christ—Rom. 7:46) again gets at us. We are certainly under condemnation (from which we have been permanently freed—Rom. 8:1),7 and probably yield to the temptation. Because there remains a duality at our inner spirit center, it is possible for us to exercise free choice and choose sin. We have been caught into that temporary adultery of James 4:48 and 1:159—an "adultery" which is a temporary "affair" in modern terms, but not a broken Christ-marriage. And then we return by the grace route of 1 John 1:9.10 We confess (admit) our sin to God and receive the blessed reality of forgiveness through Christ: the removal of even any sense of guilt. We are not only forgiven, but "cleansed from all unrighteousness."
We Retain Freedom
So, when we come to know who we are—Christ in us and as us, i.e. Christ in our forms—we retain freedom in this tempting world and may temporarily respond negatively from our spirit. (The soul, with its feelings and reasons, is merely the clothing of our spirit, which alone is the real "I.") Thus, our spirit gives any consent, which is the committing of a sin.
This is precisely what confronted Jesus Himself as "Second Man," both in the Mount of Temptation for forty days and all through His human years. There was even a final, desperate pull on Him to escape the Cross: "If it be possible let this cup pass from Me: but not as I will, but as thou willest." So the Scripture says He was "tempted in all points as we are, yet without sin" (Heb. 4:15). Therefore, temptation and trials of all kinds are not sin and do continue constantly in our earthly life. We know that one day temptation will disappear forever (James 1:12).11 But now we use all such temptations as good practice for the replacement of unbelief by faith (James 1:2, 312 and John 20:27-29).13 There is no condemnation in temptation, any more than there was with our perfect Jesus.
Sin, though occasional with us, is possible and actual when we give deliberate consent to temptation from our Spirit-I center. But then, thank God, if there is sinning, there is cleansing.
Evil: Outcome of Free Choice
Another misunderstanding grows out of our bold statement, on full Biblical authority, that God "means" evil. Illustrations may be found in Gen. 50:20,14 Acts 2:2315 and 4:27, 2816 and many other like passages. Romans 9, until fully understood with the following tenth chapter, raises the same kind of question. What we mean, of course, is that evil is a misuse of the self, which stands between its two potentials (as with the two trees in the garden of Eden).
God, in His eternal freedom, desired and eternally brought into being His only-begotten Son. Thus, His Personhood became the expression of total other-love, in place of self-love. When Paul said in Titus 1:217 that God cannot lie, he shed light on what it means to be totally for others.
So then, God created us as persons, like Himself. And we can be persons only by freely yielding ourselves as expressers, either of that self-for-self nature which He never was, or of that self-for-others nature which He eternally IS. Lucifer-Satan, who chose to be a self-for-self, took possession of all of us humans with his fallen nature, by the free choice of our first parents (Adam and Eve).
Therefore, God "determines" what freedom produces, first in Lucifer, and then in us (as indwelt by Lucifer), and He "means" the effects. In His foreknowledge, God knows which way we will go; but He never touches our freedom of choosing the way.
Thus, Scripture says that God "hardened Pharaoh's heart" (Rom 9:17, 18), for the hardening was the inevitable effect of Pharaoh's persistent free choice. Negative choosing must also lead to damnation for those who reject all appeals of grace and continue to "love darkness rather than light, for their deeds are evil" (John 3:19).
But, in His foreknowing (as in 1 Peter 1:12-21),18 God turns the disastrous effects of man's negative self-for-self effort choices into manifestations of His redeeming grace for all who respond by faith. He uses the evil for a greater manifestation of good, by which "death is swallowed up in victory" (1 Cor. 15:54). This is true for all who respond to His love pressures on them to believe Him in every circumstance. These do not continue in the one and only final sin of unbelief (John 16:9).19
Therefore, in no sense does God's "meaning" evil indicate that He is responsible for it, beyond the fact that it is the necessary outcome of the choice of opposites, which is inherent in free personhood—God's and man's.
1 1 Cor. 6:16: "But he that is joined unto the Lord is one spirit."
2 Heb. 4:12: "For the word of God is quick, and powerful, and sharper than any twoedged sword, piercing even to the dividing asunder of soul and spirit, and of the joints and marrow, and is a discerner of the thoughts and intents of the heart."
3 1 John 5:19: "And we know that we are of God, and the whole world lieth in wickedness."
4 2 Peter 1:9: "But he that lacketh these things is blind, and cannot see afar off, and hath forgotten that he was purged from his old sins."
5 James 1:14: "But every man is tempted, when he is drawn away of his own lust, and enticed."
6 Rom. 7:4: "Wherefore, my brethren, ye also are become dead to the law by the body of Christ; that ye should be married to another, even to him who is raised from the dead, that we should bring forth fruit unto God."
7 Rom. 8:1: "There is therefore now no condemnation to them which are in Christ Jesus, who walk not after the flesh, but after the Spirit."
8 James 4:4: "Ye adulterers and adulteresses, know ye not that the friendship of the world is enmity with God? whosoever therefore will be a friend of the world is the enemy of God."
9 James 1:15: "Then when lust hath conceived, it bringeth forth sin: and sin, when it is finished, bringeth forth death."
10 1 John 1:9: "If we confess our sins, he is faithful and just to forgive us our sins, and to cleanse us from all unrighteousness."
11 James 1:12: "Blessed is the man that endureth temptation: for when he is tried, he shall receive the crown of life, which the Lord hath promised to them that love him."
12 James 1:2-3: "My brethren, count it all joy when ye fall into divers temptations; Knowing this, that the trying of your faith worketh patience."
13 John 20:27-29: "Then saith he to Thomas, Reach hither thy finger, and behold my hands; and reach hither thy hand, and thrust it into my side: and be not faithless, but believing. And Thomas answered and said unto him, My Lord and my God. Jesus saith unto him, Thomas, because thou hast seen me, thou hast believed: blessed are they that have not seen, and yet have believed."
14 Gen. 50:20: "But as for you, ye thought evil against me; but God meant it unto good, to bring to pass, as it is this day, to save much people alive."
15 Acts 2:23: "Him, being delivered by the determinate counsel and foreknowledge of God, ye have taken, and by wicked hands have crucified and slain:"
16 Acts 4:27-28: "For of a truth against thy holy child Jesus, whom thou hast anointed, both Herod, and Pontius Pilate, with the Gentiles, and the people of Israel, were gathered together, For to do whatsoever thy hand and thy counsel determined before to be done."
17 Titus 1:2: "In hope of eternal life, which God, that cannot lie, promised before the world began;"
18 1 Pet. 1:12-21: "Unto whom it was revealed, that not unto themselves, but unto us they did minister the things, which are now reported unto you by them that have preached the gospel unto you with the Holy Ghost sent down from heaven; which things the angels desire to look into. Wherefore gird up the loins of your mind, be sober, and hope to the end for the grace that is to be brought unto you at the revelation of Jesus Christ; As obedient children, not fashioning yourselves according to the former lusts in your ignorance: But as he which hath called you is holy, so be ye holy in all manner of conversation; Because it is written, Be ye holy; for I am holy. And if ye call on the Father, who without respect of persons judgeth according to every man's work, pass the time of your sojourning here in fear: For as much as ye know that ye were not redeemed with corruptible things, as silver and gold, from your vain conversation received by tradition from your fathers; But with the precious blood of Christ, as of a lamb without blemish and without spot: Who verily was foreordained before the foundation of the world, but was manifest in these last times for you, Who by him do believe in God, that raised him up from the dead, and gave him glory; that your faith and hope might be in God."
19 John 16:9: "Of sin, because they believe not on me;"