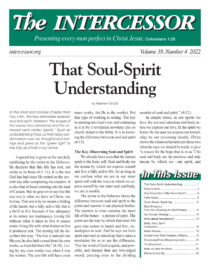 Bible Evidence

From Soul Feelings to Spirit Reality
Here are some Biblical examples of moving from the temporary thoughts and feelings in our soul to the spiritual truth about God and who He is, and Who He is in us as believers. This truly is the key to everything–the answer to every problem. When we know the difference between soul and spirit and apply this truth "in the thick of it," counting on God's true, unchanging word only, in the face of temporary, variable feelings, Christ is free to express His attributes as we affirm them through us. He IS love when we feel only hate, He IS strong when we feel weak, He IS courage when we feel fear, He IS peace when we feel disturbed, He IS whole and complete, lacking nothing, when we feel empty and worthless. Fill in your own feeling and God's opposite attribute lived out through you and praise God!
Psalm 13:1-6
How long, Lord? Will you forget me forever?
How long will you hide your face from me?
How long must I wrestle with my thoughts
and day after day have sorrow in my heart?
How long will my enemy triumph over me?
Look on me and answer, Lord my God.
Give light to my eyes, or I will sleep in death,
and my enemy will say, "I have overcome him,"
and my foes will rejoice when I fall.
But I trust in your unfailing love;
my heart rejoices in your salvation.
I will sing the Lord's praise,
for he has been good to me.
Lamentations 3:1-26
I am the man who has seen affliction
by the rod of the Lord's wrath.
He has driven me away and made me walk
in darkness rather than light;
indeed, he has turned his hand against me
again and again, all day long.
He has made my skin and my flesh grow old
and has broken my bones.
He has besieged me and surrounded me
with bitterness and hardship.
He has made me dwell in darkness
like those long dead.
He has walled me in so I cannot escape;
he has weighed me down with chains.
Even when I call out or cry for help,
he shuts out my prayer.
He has barred my way with blocks of stone;
he has made my paths crooked.
Like a bear lying in wait,
like a lion in hiding,
he dragged me from the path and mangled me
and left me without help.
He drew his bow
and made me the target for his arrows.
He pierced my heart
with arrows from his quiver.
I became the laughingstock of all my people;
they mock me in song all day long.
He has filled me with bitter herbs
and given me gall to drink.
He has broken my teeth with gravel;
he has trampled me in the dust.
I have been deprived of peace;
I have forgotten what prosperity is.
So I say, "My splendor is gone
and all that I had hoped from the Lord."
I remember my affliction and my wandering,
the bitterness and the gall.
I well remember them,
and my soul is downcast within me.
Yet this I call to mind
and therefore I have hope:
Because of the Lord's great love we are not
consumed,
for his compassions never fail.
They are new every morning;
great is your faithfulness.
I say to myself, "The Lord is my portion;
therefore I will wait for him."
The Lord is good to those whose hope is in him,
to the one who seeks him;
it is good to wait quietly
for the salvation of the Lord.
Psalm 43:5
Why are you cast down, O my soul?
And why are you disquieted within me?
Hope in God;
For I shall yet praise Him,
Who is the health of my countenance and my God.
Matthew 26:38-39
Then Jesus went with his disciples to a place called Gethsemane, and he said to them, "Sit here while I go over there and pray." He took Peter and the two sons of Zebedee along with him, and he began to be sorrowful and troubled. Then he said to them, "My soul is overwhelmed with sorrow to the point of death. Stay here and keep watch with me." Going a little farther, he fell with his face to the ground and prayed, "My Father, if it is possible, may this cup be taken from me.
Yet not as I will, but as you will."
More Articles from The Intercessor, Vol 38 No 4