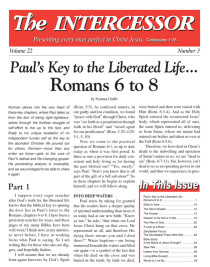 Greater is He that is in Me…

Greater is He that is in Me…
by Richard Gilsenan
I have been a Christian for about 17 years. For a good part of that time, although knowing I was saved, I really struggled with life and situations, believing I had or should have the power to lead a good Christian life.
Discovering the truth some years ago that Christ did not mean me to struggle and that I was just a container, a vessel for Him to fill and live His life through me, was real light. I realized that I don't operate independently at any time and never have. As I believe this truth, Christ who is joined to my spirit is doing the living by me (Romans 9: 22,23).
Several years ago I shared the gospel with my aunt, and she prayed for salvation shortly before her death. Sharing with her felt especially difficult for me because I had always felt very inadequate around her and that I didn't measure up. But Jesus Christ used me—the vessel— regardless of these feelings. Going against the feelings and trusting Christ through me to do the speaking was my opportunity for faith and to do something other than live from feelings of inadequacy. I also knew at the time that I would be accountable for whether or not I was obedient to God.
Last year I took a stand against my brother who is living in an adulterous situation. He was home on holiday from Australia, and I chose not to meet with him and the woman he is living with at a special family function held for him. I shared my concerns with other Christians— wanting to do what was right—and they encouraged me in my stand. I had many phone calls with my siblings, who tried to persuade me to meet Frank and not to be "judgmental." I knew that God had called me to make this stand and I determined that Christ through me could withstand the pressure. I am much younger than my brother, and talking to him about his immoral life felt daunting. But I got through because I knew it was not me doing it. In spite of opposition from my brother (and others), Christ through me remained firm. I believe that in time he will see his sin and repent of it.
Some years ago my mother said she was thinking of leaving her estate to me— a house and small farm. That pleased me a lot. For years my dream had been that one day I would own a farm. I was also pleased that I was developing a relationship with her—something I never had growing up. However, things changed soon after as I said something that offended her. Despite my apology, she remained "cool" with me for some time. Our relationship is much better now, but I am less sure of inheriting the farm. In the past I would have been devastated about this—now I am grateful that my greatest desire is to see her saved. I am content to know that whatever I have is God's business, and my business is to trust Him in it.
Writing this article has brought an awareness to me of how I have fallen short so much. In many situations I have seen myself independently, and thus failed to go against the feelings of fear, inadequacy or whatever, and have not trusted Christ to live through me. I am grateful that I have been forgiven for these times and also that I do not have to be ruled by the old negative feelings any longer. I know that I can confidently take on the enemy—because "greater is He that is in me than he that is in the world" (1 John 4:4). I thank God that my life today is very different from how it used to be.
More Articles from The Intercessor, Vol 22 No 3